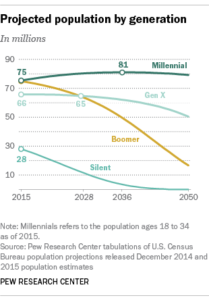 Did you know, according to the U.S. Census Bureau's population estimates released a few months ago and reported by PEW, that Millennials have surpassed Baby Boomers as the nation's largest living generation?
Millennials (defined in 2015 as those between the ages of 18-34) now number 75.4 million, which surpasses Baby Boomers (ages 51-69) by nearly a million.  
These statistics make Gallup's 2016 Report How Millennials Want to Work and Live a must-read for those employing this age group among their rank and file.  
According to the Gallup research, Millennials (ages 18-34) can be described by seven tenets which are summarized below.
1)  MILLENNIALS DON'T JUST WORK FOR A PAYCHECK – THEY WANT A PURPOSE
For Millennials, work must have meaning. They want to work for organizations with a mission and purpose. Traditionally, Baby Boomers pretty much saw the paycheck as the way to support families and communities which represented the ultimate rationale for being tenacious when it came to work. It's not that Millennials view compensation as unimportant (it must be equitable) – they just don't see it as the key incentive.  The emphasis for this generation has moved from paycheck as a purpose to working on purpose. They expect the work they perform to be linked to something meaningful. It goes without
saying that the workplace culture should also reflect that significance.    
2)  MILLENNIALS ARE NOT PURSUING JOB SATISFACTION – THEYARE PURSUING PURPOSE AND DEVELOPMENT
According to Gallup "Most Millennials don't care about the bells and whistles found in many workplaces today — the ping-pong tables, fancy latte machines and free food that companies offer to try to create job satisfaction. Giving out toys and entitlements is a leadership mistake, and worse, it's condescending. Purpose and development drive this generation."
3)  MILLENNIALS DON'T WANT BOSSES – THEY WANT COACHES
Research findings describe how the days of traditional command and control by bosses is considered long gone. Millennials care most about having a manager who coaches them, who "values them as both people and employees, and who helps them understand and build their strengths."
4)  MILLENNIALS DON'T WANT ANNUAL REVIEWS – THEY WANT ONGOING CONVERSATIONS
We've all known for some time (and now Gallup confirms this) that annual reviews no longer work. "The way Millennials communicate — texting, tweeting, Skype, etc. — is now real-time and continuous. This dramatically affects the workplace because Millennials are accustomed to constant communication and feedback."
5)  MILLENNIALS DON'T WANT TO FIX THEIR WEAKNESSES – THEY WANT TO DEVELOP THEIR STRENGTHS
Gallup has discovered that "weaknesses never develop into strengths, while strengths develop infinitely."  They believe that organizations shouldn't ignore weaknesses. Rather, the workplace should "minimize weaknesses and maximize strengths" in order to entice the best to stay.
6)  IT'S NOT JUST A JOB – IT'S A WAY OF LIFE
One of Gallup's most important (and self-evident) discoveries is that everyone in the world wants to be gainfully employed in a good job. This is especially true for Millennials. More so than ever in the history of corporate culture, employees are asking, "Does this organization value my strengths and my contribution? Does this organization give me the chance to do what I do best every day?" For Millennials, a job is no longer just a job — it's actually a representation of their life.  
7)  MILLENNIALS DON'T CONNECT TRADITIONALLY – THEY ARE THE WIRED GENERATION
Gallup stresses that Millennials are first-generation digital natives who feel most at home surfing the Internet.
Technology — particularly devices like smartphones, but also tablets and laptops — has revolutionized the way they view the world especially when it comes to interacting and engaging with one another. While the vast majority of Americans surf the Web from a desktop or laptop computer at home or work, 85% of Millennials use their phones to access the World Wide Web — more than all other generations.
While the Millennial Checklist might require some time for older generations to onboard, it's worthy of the time spent in percolation over it all. After all, it's the Millennial generation that is increasingly becoming both contender and consumer in today's working world. 
---
For more information see Gallup's research: https://www.gallup.com/reports/189830/millennials-work-live.aspx
To contact Victoria Tucker, send her a note at vtucker@zbglobal.com