…in the Digital Workspace
Making One Thing Talk to Another
One of our most sought-after custom solutions is getting one thing to talk to another, when they were not originally designed to do so.  Our seasoned team of programmers is adept at analyzing and identifying the proper framework to link your vital applications — this can greatly increase productivity through a more streamlined workflow and the elimination of redundant data entry.
The online landscape is filled with countless applications.  Knowledge is needed to connect these disparate systems (each with their own coding language) through an "application programming interface" or API.  We bring this knowledge through our extensive experience at translating APIs to create custom integrations.  This enables data to flow from one system to another without user intervention.
It's not just API weaving that brings clients to us.  Our ability to create custom dashboards with one-click access to frequently-used applications, or build an entirely unique platform tailored specifically to your needs, sets us far apart from just a basic web design service.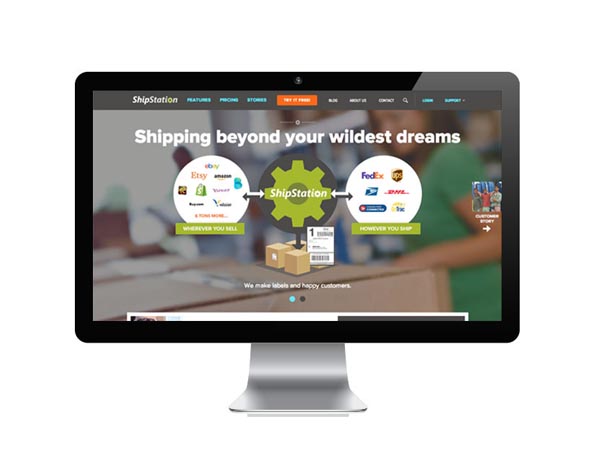 Integrating eCommerce with your Bookkeeping and Shipping Services
The process of getting from a new online order to a printed invoice and shipping label is probably one of the most convoluted time-wasters for eCommerce companies, since the same customer data often needs to be entered 2 or 3 times (at least) just to get the order ready to ship.  We can help you link your shopping cart with your accounting AND shipping software, so all of the proper data flows automatically from one to the other.  All you need to do is package and ship.
Adding Interactive Social Media Feeds and Content to Your Website
Let's face it… a strong social media presence can really help grow your business.  Some of the best marketing exposure occurs in the social media realm.  Not only can we help you build and refine your social presence, but can also embed that content directly into your website.  This keeps potential customers right where you want them, with immediate access to all of your products and information, while still being able to read, "Like" and interact with that real-world content.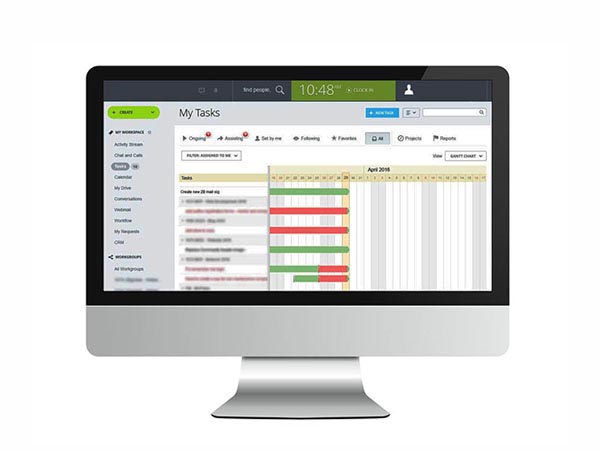 CRM / Project Management Systems and Intuitive Data Flow
Manage departments, sites, project teams and clients by using Project Workgroups. Private partitions of your web system can be established to facilitate project tasks, schedules, documents, messages, and more. Control access permissions (individual, team, company) and setup automated processes within assigned workgroups.  You can monitor scheduled activities on each project via Gantt Chart assigned task functionality, and identify process workflow / interdependencies for new projects.
Daily, we integrate a wealth of custom code and/or various industry plug-ins to achieve specific development goals.  There are numerous, if not infinite, possibilities when it comes to combining applications and ensuring that they work in harmony for an optimized workflow.  Below is a non-exhaustive list showing common (and uncommon) applications and plug-ins we deal with on a regular basis.  If you would like to integrate or combine one or more of these into your business, we can help!
Amazon AWS
Authorize.net
Bitrix24
Box
bbPress
BuddyPress
CrashPlan
Dropbox
EventBrite
Events Manager
Facebook
Google Docs
Instagram
Joomla
LinkedIn
MailChimp
Microsoft Office
MySQL
Office365
PayPal
QuickBooks
RSS Feeds
Salesforce
Sensei
Sharepoint
Shipworks
Shopify
Stripe
Survey Monkey
Trello
Twitter
UltimateMember
Wistia
WooCommerce
WordFence
WordPress
Wufoo
YouTube
ZenDesk
Acuity Online Appointment Scheduling
Advanced Custom Fields
Akismet
Append Extensions on Pages
BadgeOS
bbPress
bbPress Moderation
Boss Sensei
BuddyPress
BuddyPress Automatic Friends
BuddyPress Force Profile
BuddyPress Profile Search
BuddyPress Followers
BuddyPress Friends Online
BuddyPress Global Search
BuddyPress Job Match
BuddyPress Member Match
BuddyPress Members Only
BuddyPress Member Types
BuddyPress XProfile Custom Fields
Change Author
Cronjob Scheduler
Custom Facebook Feed Pro
Custom Sidebars
DP Portfolio Posts Pro
Duplicate Post
AIO Module Extended
Custom Fullwidth Header Extended
Enhanced Text Widget
EventBrite API
Events Manager
Expand Maker
Facebook Comments
Feed Them Social
Font Awesome 4 Menus
Google Analytics
Google Website Translator
WooCommerce Groups
Gtmetrix for WordPress
Hide Title
Image Intense
Import Users from CSV
Insert/Embed Articulate Content into-WP
Insert PHP
Jetpack
Justified Image Grid
Kiwi Logo Carousel
Login Lockdown
Manual Control
MashSharer
Media File Manager
Menu Social Icons
Monarch
OA Social Login
OptinMonster
Page Duplicator
Paid Memberships Pro
Peters Login Redirect
Pollka
Really Simple SSL
Regenerate Thumbnails
Rememberme Not
Rest API
Sensei BuddyPress
Sensei Certificates
Sensei Modules
Shortcodes Ultimate
Simple Local Avatars
Surbma DIVI Extras
Taxonomy Terms Order
Templatera
Theme My Login
Title Remover
Transients Manager
Uber Login-Logo
UltimateMember
Ultimate Social Media Plus
Use Any Font
User Role Editor
W3 Total Cache
WooCommerce
WooCommerce Gateway Paypal Advanced
WooCommerce Subscriptions
Woodojo
Woothemes Sensei
WordFence
WordPress Access Control
WordPress Importer
WordPress SEO
WPAI ACF + User Add-Ons
WP All Import Pro
WPDatatables 1_6_1
WP Editor
WPfront User Role Editor
WP Fullcalendar
WP Glossary
WP Google Map Gold
WP Job Manager + Resumes
Job Manager XML CSV Listings Import
Job Manager ZBglobal Webscraper
Mandrill
Page Duplicator
WP Page Extension
WP Security Audit Log
WP Show More
WP Smushit
Wufoo Shortcode
Yet Another Stars Rating
YOP Poll
ZB Amazon SQS
ZB Amazon SQS Accounts
ZB Amazon SQS User Data
ZB Course Progress
ZB Custom Input
ZB Email All
ZB Login Redirect
Zendesk